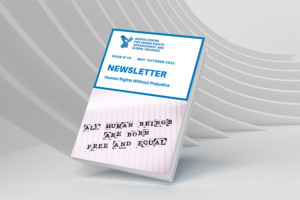 The Geneva Centre's most recent Newsletter gives a spotlight to the main activities of the Centre during May-October 2022.
Two international panel events were held: "Armed Conflicts, Environment and Human Rights" in June as part of a joint initiative between the Geneva Centre and the Geneva Academy of International Humanitarian Law and Human Rights; and on the International Day of Peace in September a panel event entitled "Building Peace – Ending Racism".
The Geneva Centre monitored both the 50th and 51st regular sessions of the UN Human Rights Council under its HRC Reporting Initiative in June-July and September-October. Additionally, the two-day training Cybersecurity and Human Rights for Professionals was successfully held in October.
The Geneva Centre published the last episode of its exciting new initiative Scientific Café under the theme "COVID-19 and the right to information", with new episodes on the way under the theme "Promoting women's participation in peacebuilding".
The applications for the Human Rights Recognition Awards is open with this years theme celebrating Youth in Human Rights Advancement. The Centre will present its award at the Awards Ceremony on Friday 9th of December 2022.
Download the latest edition of the "Human Rights Without Prejudice" Newsletter below:
Geneva Centre – Newsletter, Issue N° 10 (May – October 2022).pdf