The Geneva Centre for Human Rights Advancement and Global Dialogue believes that training is an essential leverage for the enhancement of human rights knowledge, promotion and practices, especially  with regard to the Centre's core focus areas such as equality, non-discrimination, justice, gender issues, women's rights, interfaith dialogue, and international conferences and developments related to human rights.

Targeting government officials, lawyers, journalists, students and other civil society representatives, the tailored training programs aim at offering participants a unique, hands-on exposure to the working methods of international organizations in Geneva, particularly the United Nations, through active participation in the sessions of the UN Human Rights Council, visits to Office of the United Nations High Commissioner for Human Rights (OHCHR) and other relevant Geneva-based institutions.
The training programmes also aim at promoting national capacity building, especially with regard to the Middle East and North Africa (MENA) countries, through developing tailored programmes to enhance human rights awareness, knowledge and skills of the upcoming generations in the Arab region.
The programmes offered by the Geneva Centre take place three times a year, concomitantly with the sessions of the UN Human Rights Council. Consequently, the three training cycles are held annually in March, June and September. The Geneva Centre's human rights training programme is unique for the following reasons:
The Centre adjusts to the level, background and future careers needs of the participants;
The Centre invites high-level lecturers and experts, available in Geneva academia and international organizations, with solid theoretical and practical experience in human rights law and international humanitarian law, to deliver innovative training modules.
Participants learn the methods and techniques to work with such mechanisms as Human Rights Council (HRC), Universal Periodic Review (UPR), Treaty Bodies, and Special Procedures.
The Geneva Centre's trainings specifically address the role of civil society in human rights negotiations.
Since February 2014, the Geneva Centre has delivered a total of 21 trainings, workshop and short courses attended by 170 participants.
For more information on the Geneva Centre's Training programs and internships, kindly contact our Training Specialist Ms Alia Fares.
Click here to have a brief overview of our three past training sessions.
MARCH 2021 TRAINING SESSION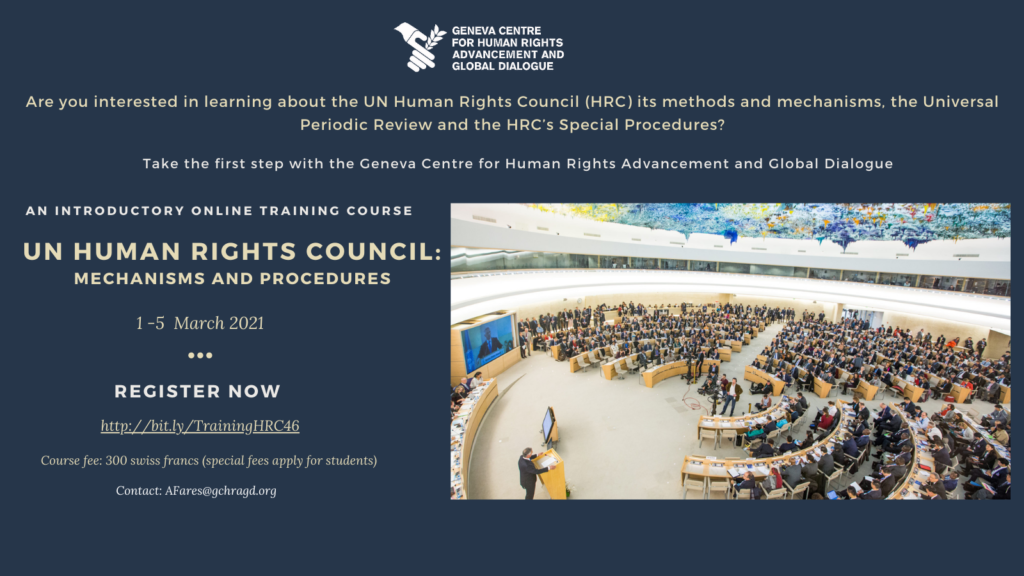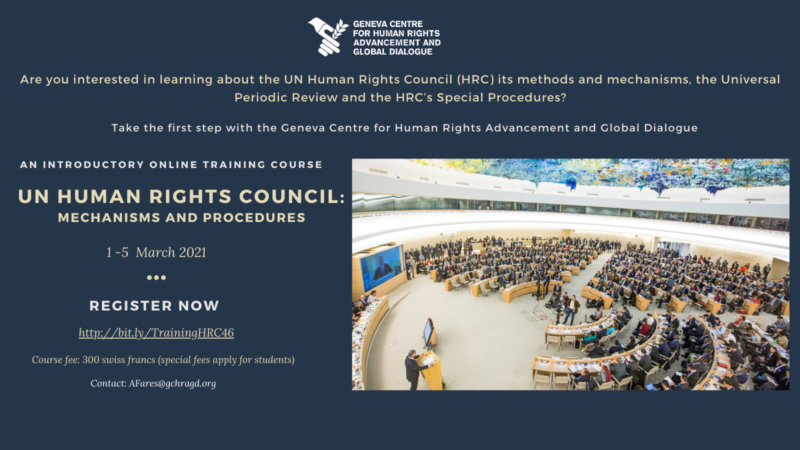 Taking the UN Human Rights Council as a point of departure, this five-day online training course has been designed to provide participants with basic knowledge of human rights law, an overview of the Human Rights Council (HRC) its methods and mechanisms, an introduction to the HRC's Universal Periodic Review, the HRC's Special Procedures and the differences between the Human Rights Law and International Humanitarian Law. This course will run in parallel to the 46th session of the UN HRC in Geneva.
Take the first step with the Geneva Centre for Human Rights Advancement and Global Dialogue and register now.
Course Brochure: Training session March 2021 – Brochure
Course program: Training Program – March 2021
For more information, please contact: AFares@gchragd.org