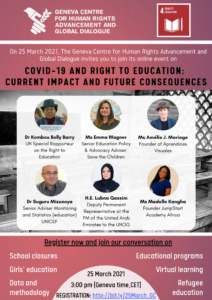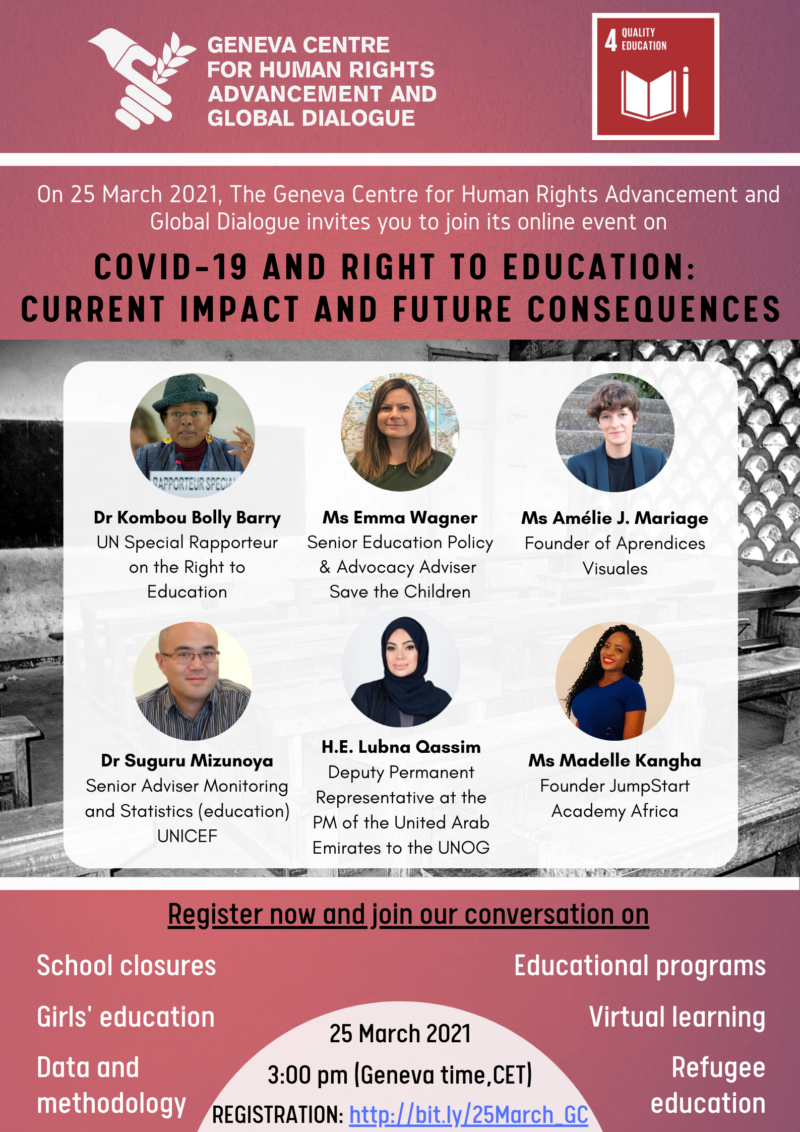 Since the outbreak of the Covid-19 pandemic, the right to education has been gravely affected around the world. As stated by the Special Rapporteur on the Right to Education in her report presented to the Human Rights Council, "more than 1.5 billion learners have been affected by the closure of schools and universities worldwide".
The impact of the Covid-19 pandemic on education is broad, complex and will have long term consequences. What endangers children and their right to education in this pandemic is more the measures taken to combat the virus than the virus itself. As stated by Meg Gardinier, Secretary General of ChildFund Alliance and CEO Chair of the Joining Forces, "In the desperate fight against coronavirus, we need to ensure that children are protected not only from COVID-19, but from the unintended consequences of the confinement procedures required to combat it."
The closure of schools is having a snowball effect on the right to education of children worldwide. Several negative consequences stem from the closure of schools. While remote learning offers some new opportunities, it also brings many new challenges such as amplification of inequalities and domestic violence. The use of technology in education opens the door to the commercialization of education and to the risk of online abuses.
In the recovery from this crisis, new opportunities to enhance the education system should not be missed. Funding should be improved, and previously excluded student populations will have to be included in order to leave no one behind.
Invited speakers coming from different types of fields and organizations discussed and elaborated on the current impact of the Covid-19 pandemic on the right to education, and the future consequences it may have. Speakers identified the main risks and problems and presented solutions for the future, to safeguard and promote the right to education following the pandemic.
Event Panellists: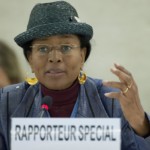 Dr Koumbou Boly Barry – UN Special Rapporteur on the Right to Education:
Ms. Koumbou Boly Barry, from Burkina Faso, was appointed Special Rapporteur in 2016 at the 32nd session of the Human Rights Council. Dr. Boly Barry holds a PhD in Economic History from Cheikh Anta Diop University in Senegal. She is the former Minister of Education and Literacy of Burkina Faso, and has consulted widely for various governments and international institutions on the right to education. Dr. Boly Barry has been an advocate on gender issues in education. She also has ample knowledge and experience in training and research, as a visiting professor at University of Nottingham, United Kingdom; University of Louvain La Neuve, Belgium; and as a lecturer at Ouagadougou University, Burkina Faso; Vitoria University, Brazil; and Fribourg University, Switzerland.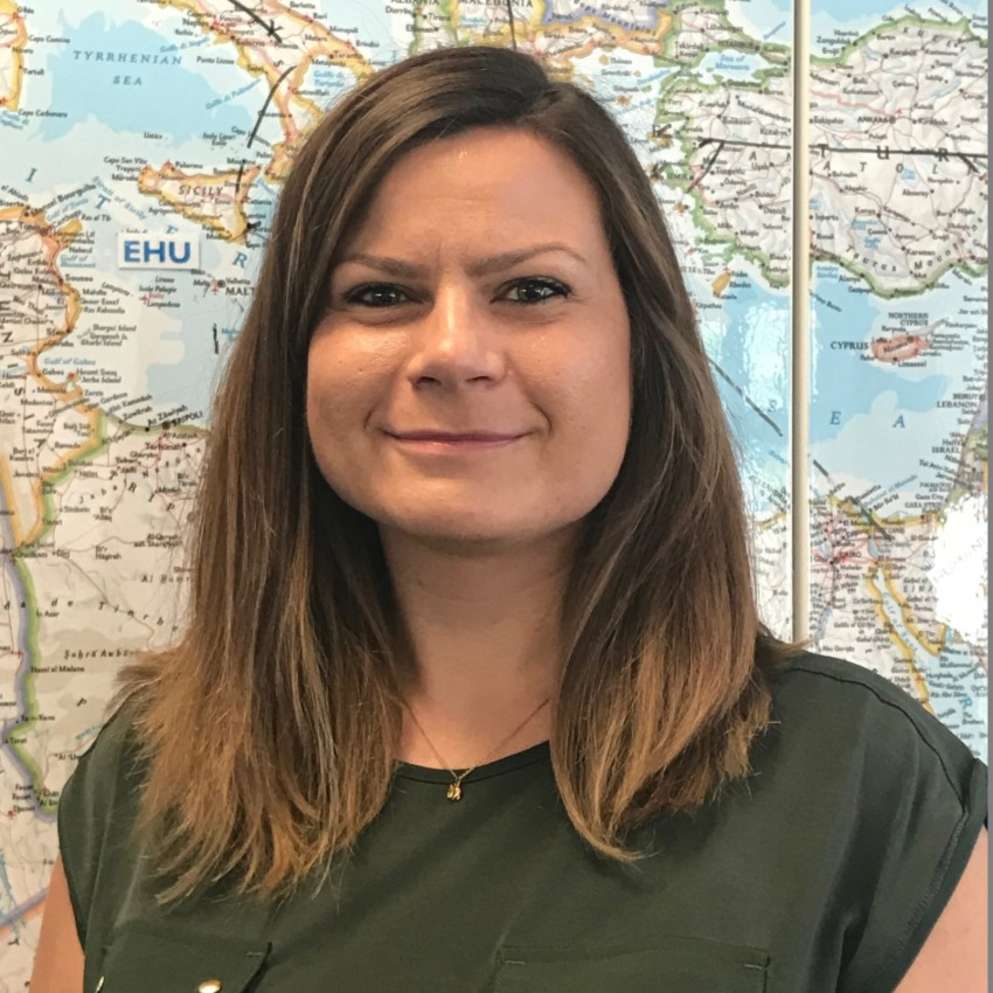 Emma Wagner – Senior Education Policy & Advocacy Adviser at Save the Children:
Emma is the Senior Education Adviser for Policy & Advocacy at Save the Children, with responsibility for education in emergencies and refugee education. In response to the pandemic she also leads on global policy for the Save Our Education campaign. She has published numerous advocacy reports on global education which make recommendations to a variety of stakeholders to improve access to safe, inclusive quality education for all. Throughout 2020 she was a member of the Executive Committee of Education Cannot Wait and chaired ECW's civil society group. She is also a member of the Advocacy Working Group of the Interagency Network for Education in Emergencies, and a member of the Global Campaign for Education and the Moving Minds Alliance which advocates for early childhood development for displaced children.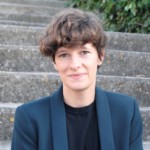 Amélie J. Mariage – Co-founder of Aprendices Visuales and Next Generation Fellow at the United Nation Foundation:
Passionate about how technology can fuel social change, Amélie J. Mariage is an impact entrepreneur and advocate for children's rights to access education. She founded Aprendices Visuales, a tech for good that have helped more than 1 million children with learning difficulties to access inclusive education worldwide. Amélie has been selected among the most influential young people in Europe by Forbes and she recently has been selected as Next Generation Fellow by the UN Foundation (an integrated team with the ability to influence thinking at the heart of the multilateral system, and to contribute directly to work mandated by Member States to mark the 75th anniversary of the United Nations).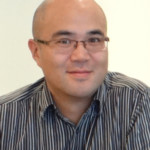 Dr Suguru Mizunoya – Senior Adviser Monitoring and Statistics (Education) at UNICEF:
Suguru Mizunoya works at the Division of Data, Analytics, Monitoring and Planning, UNICEF New York Headquarters. Suguru's main research interests include Economics and Education, Disability-Inclusive Education and Out of School Children. Suguru holds a PhD focused in Economics and Education from Columbia University in the City of New York and is an experienced monitoring expert with a demonstrated history of working in the international development industry.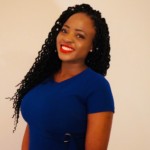 Madelle Kangha – Founder of JumpStart Academy Africa and United Nations Young Leader for the SDGs:
Madelle Kangha is the Founder of the Jumpstart Group, a network of institutions which seeks to harness Africa's demographic dividend by fostering entrepreneurship and creating employment opportunities for young people. Most notable among these institutions is Jumpstart Academy Africa, a social venture which is accelerating Africa's readiness for the future of work by equipping young people with workforce and soft skills. Since commencing operations in 2014, JumpStart Academy Africa has reached over 20,000 young people through their programs and campaigns; impacting them in the areas of Academic Excellence, Civic Engagement and Enterprise Creation.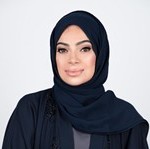 H.E. LUBNA QASSIM, Minister Plenipotentiary First Degree, Deputy Permanent Representative of UAE to the United Nations Office and other International Organisations in Geneva
H.E. LUBNA QASSIM was appointed as the UAE's Deputy Permanent Representative to the UN and International Organisations in Geneva on 29 August 2019. Lubna was appointed by a Presidential Decree on October 2018 as Minister Plenipotentiary of First Degree. Pursuant to this appointment, she joined the UAE Ministry of Foreign Affairs & International Cooperation and served as Senior Legal Counsel to the UAE's Minister of Foreign Affairs & International Cooperation after a span of 20 years of successful career in law, Trade, Economy, Finance, cross-border acquisitions and International Dispute Resolutions across Europe, US, Asia and the Middle East.  She speaks six languages fluently and is recognized by a number of International Organisations for her leadership, diplomacy and legal intellect. She is a recipient of a number of international and regional awards, including IFRC who chose her, in 2018, as the best General Counsel of the Middle East in 2018. She was also recognized in the same year as one of the top 50 female leaders in the Arab World.
Follow-up Publication "COVID-19 and Right to Education: Current Impact and Future Consequences":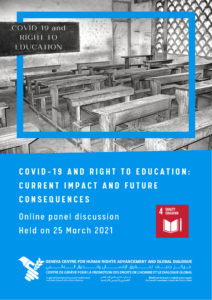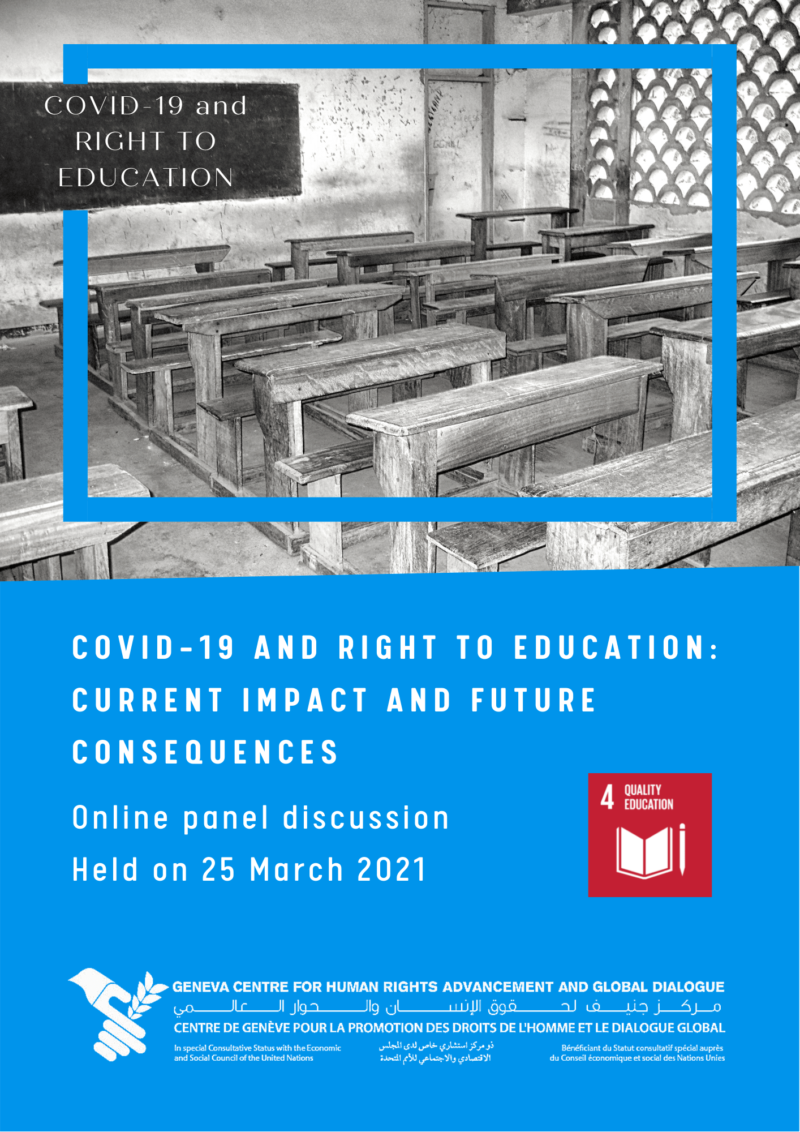 The publication includes a summary of the proceedings and the full statements of the panel presentations, as well as an analytical article which builds upon the lessons learned from the panel. The article provides an overview of the existing international legal and institutional framework related to the right to education, identifies the wide-ranging impact of the pandemic thereupon, and offers policy recommendations for building forward better.
Click here to access the publication
For more information, contact our Project Officer Mr Florian Fiquet: ffiquet@gchragd.org