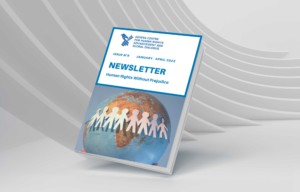 3 May 2022, GENEVA 
The Geneva Centre's Newsletter Issue 9 gives a spotlight to the main activities of the Centre during the first four months of the year. A successful panel event on Promoting Equal Rights and Women's Participation towards Peace gathered experts from Nepal, Sri Lanka, Yemen, and Pakistan to share their unique experiences and insights from the field. Among the issues discussed were innovative ways to promote gender equality in different societal contexts and the myriad of root causes of violence and extremism.
The Newsletter highlights the exciting pilot training on Cybersecurity and Human Rights conducted in March, as well as the main achievements of the Geneva Centre's Human Rights Council Reporting Initiative that covered the 49th Regular Session of the UN Human Rights Council – the longest in history – between February and April.
Furthermore, the Newsletter gives an overview of the various advocacy messaged developed during this period, other activities undertaken and a look forward to the events, trainings and activities that will follow in the coming months.
Download the latest edition of the "Human Rights Without Prejudice" Newsletter below:
Geneva Centre – Newsletter, Issue N° 9 (January – April 2022).pdf