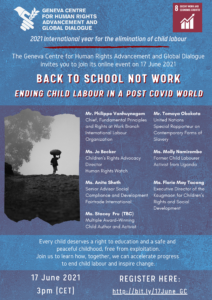 When: 17 June 2021 (Thursday) 15:00 to 16:30 (CET, Geneva time)
Where: Given the evolving situation of the COVID-19 pandemic, the event will take place virtually on Zoom. Registration link: https://zoom.us/meeting/register/tJEpcO2pqDotGNaZI8xAiqLMVTyuzjBj4pE-
On the occasion of the International Year on the Eradication of Child Labour, the Geneva Centre is organizing an online event entitled "Back to School not Work: Ending Child Labour in a Post-COVID World". Join us on 17 June 2021 to learn more about child labour and to discuss how, together, we can reverse this trend.
The panel debate will be moderated by Dr. Umesh Palwankar, the Executive Director of the Geneva Centre for Human Rights Advancement and Global Dialogue. We expect the panel to likewise benefit from the participation of the following distinguished panellists:
Mr. Philippe Vanhuynegem – Chief of the Fundamental Principles and Rights at Work Branch, International Labour Organization;

Mr. Tomoya Obokata – United Nations Special Rapporteur on Contemporary Forms of Slavery;

Ms. Jo Becker – Children's Rights Advocacy Director Human Rights Watch;

Ms. Anita Sheth – Senior Advisor Social Compliance and Development, Fairtrade International;

Ms. Molly Namirembe – Former Child Labourer, Activist from Uganda;

Ms. Florie May Tacang – Executive Director of the Kaugmaon for Children's Rights and Social Development (Philippines).

Ms. Stacey Fru – Multiple Award-Winning Child Author and Activist (TBC);
Context:
In 2019, the United Nations General Assembly unanimously adopted Resolution 73/2371 declaring 2021 as the International Year for the Elimination of Child Labour. The resolution reaffirmed the commitments by Member States to adhere to achievement of SDG 8.7 and "take immediate and effective measures to eradicate forced labour, end modern slavery and human trafficking, […] and by 2025 end child labour in all its forms".
While significant progress has already been made towards this ambitious goal in the last decades, many challenges remain as over 152 million children were estimated to still be engaged in child labour in 2017. The COVID-19 pandemic further threatens to exacerbate the situation, pushing more girls and boys, particularly from vulnerable communities, into child labour. This is due to a number of factors, among others:
Child labour regulations have been weakened in a number of countries, especially in sectors such as agriculture and coffee production.
School closures are known to increase the risk of child labour, including exploitative and hazardous jobs.
Girls are particularly vulnerable to exploitation in domestic work.
Restricted freedom of movement can make it more difficult for social workers to support vulnerable children, putting them at a higher risk of exploitation.
Disruption of family ties through illness and death of parents due to COVID-19 can make children more vulnerable to forced labour and human trafficking.
A number of countries have curtailed or put on hold their free meal programs, childcare services, and other social service provisions.
Registration link: https://zoom.us/meeting/register/tJEpcO2pqDotGNaZI8xAiqLMVTyuzjBj4pE-
For more information, contact our Project Officers Ms Maryna Yazianok: myazianok@gchragd.org and Mr Florian Fiquet: ffiquet@gchragd.org