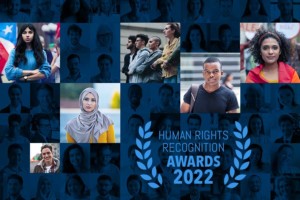 Welcome to the Geneva Centre's Human Rights Recognition Awards 2022 edition celebrating Youth in Human Rights Advancement. This year's edition highlights contributions and innovative projects undertaken by youth in their communities, where they have made a significant positive impact.
International Human Rights Day is celebrated annually to commemorate the adoption of The Universal Declaration of Human Rights by the United Nations General Assembly on 10 December 1948. To contribute to this celebration, the Geneva Centre will present its awards at the Awards Ceremony held online on Friday 9 December, 12-13pm CET.
Click here to register and follow the Awards Ceremony on Zoom.
Ceremony Agenda
Welcoming remarks by Dr. Umesh Palwankar, Executive Director, the Geneva Centre
Opening address by Ambassador Ghazi Jomaa, Chairman of the Board of Management, Geneva Centre
Speech & presentation of the Awards by the Jury Chairwoman Ms. Visaka Dharmadasa, Founder Chair of Association of War Affected Women & Parents of Servicemen Missing in Action
Speeches by the three Awardees of the Award of Youth Human Rights Champions
Speech by the Honorary Awardee
Closing Remarks by Dr. Umesh Palwankar
Nomination Process
Who can be nominated?
The nominee must be between 17 and 29 and actively involved in the advancement of human rights for a minimum of 2 years.
Awards categories
Awards of Youth Human Rights Champion: A financial award of 1000 USD will be presented to each of the three finalists.
Award of Honor: The Honorary Award will be presented to one finalist (no monetary award included).
The International Jury
Jury members include international experts and actors with extensive experience in human rights, together with one former awardee.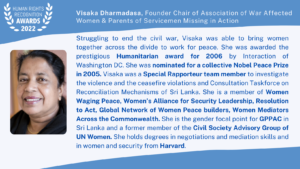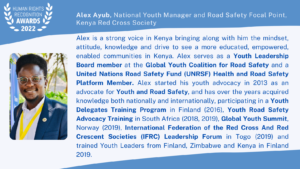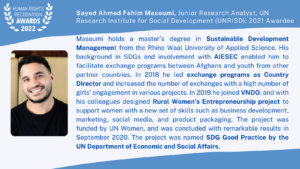 Click here to register and follow the Awards Ceremony on Zoom, 9 December 2022 at 12:00 (Geneva time, CET).