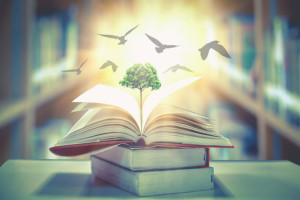 On Friday 25th July, the Geneva Centre had the honour to host an event organized in collaboration with the World Poetry Movement. On this occasion, eight poets read out their own works focusing on the promotion of peace, social justice and intercultural dialogue.
In his opening address, Dr. Fatsah Ouguergouz, Senior Policy Advisor, quoting the preamble of the UNESCO Constitution, reminded that "since wars begin in the minds of men, it is in the minds of men that the defences of peace must be constructed"; he then portrayed the Centre's guests as "ardent and patient defenders of that peace our old humanity is so thirsty of".
All the authors, in accordance with the spirit of the World Poetry Movement, conveyed, in an original way, messages of peace and harmony, in line with the aims and mission of the Geneva Centre. Among the interesting poems the audience had the pleasure to listen to, particularly noteworthy, in the framework of our mission, is Gaza: Plus de t(Rêve) by Mr. Sylvain Thévoz, Advisor for Community Action at Ville de Genève, who creatively reflected the atrocity of the scorching hot news of the past days.
"With a short poem we can be perhaps more effective than thousands of speeches declared in the UN buildings, not very far away." – declared Mr. Ricardo Espinosa, Head of Development and Global Initiatives, in his closing remarks.
The Geneva Centre was pleased to collaborate with the World Poetry Movement for this event, and looks forward to keep working together to promote "une planète sans guerres, la paix, la justice et la poésie".