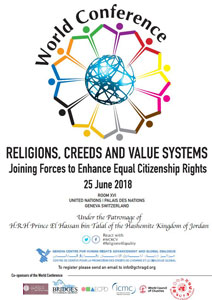 On 25 June 2018, a World Conference entitled "Religions, Creeds and Value-Systems: Joining Forces to Enhance Equal Citizenship Rights" was held, by the Geneva Centre, at the United Nations Office at Geneva, under the Patronage of His Royal Highness Prince El Hassan bin Talal of the Hashemite Kingdom of Jordan. This international conference was attended by over 250 participants including a large number of Permanent Missions accredited to UNOG and other international organizations. The meeting was addressed by more than 35 world-renowned religious, political and lay leaders from the major regions of the world.
The decision to organize the World Conference was taken at a time when the great convergence between religions, creeds and value systems was being forsaken by corrupt ideologies intent, through ignorance or prejudice, on accrediting the view that diversity leads to irreconcilable differences. Thus, societies at the multilateral and at the national level were being fractured, yielding to conflict.
In this connection, and pursuant to the 2030 UN Agenda on Sustainable Development to promote peace, mutual respect and understanding across cultures and generations, the objective of the world conference were three-fold:
Firstly, to harness the collective energy and convergence of religions, creeds and value-systems celebrating diversity and multiculturalism, as bases for the affirmation of equal citizenship rights;
Secondly, to bring out and promote awareness of commonalities between the said religions, creeds and value systems as a basis for giving recognition to all social components of society irrespective of their origin, faith, status, gender or disability;
Thirdly, to recognize a set of shared core inalienable principles providing genuine foundations for joint action by people of all religions, beliefs and value systems to advance equal citizenship rights for all peoples, in full alignment with the Universal Declaration on Human Rights.
In a special video message to the co-organizers of the World Conference, UN Secretary-General Mr. António Guterres stated that the event was an expression of a "shared commitment to human rights and equal citizenship." Mr. Guterres highlighted the crucial role played by religious leaders "in enhancing human rights for all. Religious leaders wield significant influence" – he noted – "on the hearts and minds of billions." The UN Secretary General recalled moreover – and echoing the main provisions set forth in the World Conference outcome declaration– that diversity should be considered as a source of "richness".
Plenary Panel 1 was entitled "Concept of Equal Citizenship and Points of Convergence of Religions, Creeds and Other Value Systems". The aim of this panel was to identify points of convergence between religions, beliefs and values systems in promoting and advancing equal and inclusive citizenship rights, and to make recommendations on how the true interpretation of religions, creeds and value systems could contribute to the advancement of equal and inclusive citizenship rights, national unity and international harmony. The panel was moderated by H. E. Amre Moussa, Former Secretary-General of the Arab League and Former Minister of Foreign Affairs of Egypt, and included the following keynote speakers:
Ambassador Mark Siljander, former US Ambassador to the UN, author of "A Deadly Misunderstanding: A Congressman's Quest to Bridge the Muslim-Christian Divide" and President of Bridges to Common Ground;
Rabbi Avi Tawil, Director of the European Jewish Community Centre;
Monsignor Robert Vitillo, Secretary-General of the International Catholic Migration Commission;
Professor Dr Harro von Senger, Professor of Sinology at the University of Freiburg (Germany) and expert on Confucianism;
Professor Shahrzad Houshmand Zadeh, Professor of Islamic Studies at the Centre for the Study of Theology of Religions of the Faculty of Missiology at the Gregorian University in Rome;
Ahmed Al-Dawoody, ICRC Legal Adviser on Islamic Law and Jurisprudence and Assistant Professor at Al-Azhar University in Egypt.
Plenary Panel 2 was entitled "Equal Citizenship Rights And Vulnerable/Disadvantaged/Discriminated Social Segments: Case-study Of Gender, Religious Minorities, People With Disabilities And Indigenous People". It was moderated by Dr Majeda Omar, Director of the Royal Institute for Inter-Faith Studies in Jordan, Co-Executive Secretary of the Conference, and included the following panellists:
Dr Fernand de Varennes, UN Special Rapporteur on the Rights of Minorities;
H. E. Hoda Al-Helaissi, Member of Saudi Arabia's Shoura Council and former Vice-Chairperson at King Saud University;
Dr Azza Karam, Coordinator UN Inter-Agency Task Force on Religion and Development, Senior Advisor UN Population Fund (UNFPA);
Ms Catalina Devandas Aguilar, UN Special Rapporteur on the Rights of Persons with Disabilities;
Ms Eva Svoboda, Deputy Director of International Law and Policy at ICRC.
Plenary Panel 3 was entitled "Equal Citizenship Rights and Vulnerable/Disadvantaged/ Discriminated Social Segments: Case-Study of Migrants, Refugees and Internally Displaced Persons". It was moderated by Mr Alexander A. Mejia, Director of the Division for People and Social Inclusion at the United Nations Institute for Training and Research, as well as Editor-in-Chief of UN Special, and included the following panellists:
H.E. Lakhdar Brahimi, Former Foreign Minister of Algeria and Member of The Elders;
H.E. Ambassador Juan Somavía, former Director of the Diplomatic Academy of Chile, former Director-General of the International Labour Organization and Former Ambassador of Chile to the United Nations;
H.E. Marie-Thérèse Pictet-Athann, Permanent Observer of the Sovereign Order of Malta;
Ms Alexandra Bilak, Director of the Geneva-based International Displacement Monitoring Centre (IDMC);
Mr Arthur Dahl, President of the International Environment Forum and Former Deputy Assistant Executive Director of the UN Environment Programme, representing the European Centre for Peace and Development (ECPD).
Plenary Panel 4 was entitled "Equal Citizenship Rights: Moving Towards a New Paradigm". It was moderated by Reverend Dr Olav Fykse Tveit, General Secretary of the World Council of Churches, and included the following panellists:
Dr Farhan Nizami, Director of the Oxford Centre for Islamic Studies;
Dr Safi Kaskas, Co-author of the book entitled "A Contemporary Understanding, The Quran with References to the Bible";
Sheikh Khaled Bentounes, President of the International Association Sufi Alawiyya;
Dr Etibar Najafov, Head of Department of Interethnic Relations, Multiculturalism and Religious Issues of Presidential Administration of Azerbaijan.
The 25 June World Conference was concluded with a signing ceremony of the outcome declaration entitled "Moving Towards Greater Spiritual Convergence Worldwide in Support of Equal Citizenship Rights." This declaration was signed and endorsed by several Eminent Dignitaries as well as renowned experts on inter-faith harmony from all over the world. It includes a 10-point Global Strategic Plan and 3 prescriptions for follow up action. The declaration appeals to decision-makers to advance equal citizenship rights and to deconstruct and eliminate the vulnerability of minorities. The long-term aim of this approach would thus be to enable citizens to ascertain the effective enjoyment of citizenship rights paving the way for the celebration of diversity and to consolidate national unity.
Outcome Declaration: English Arabic French
Video summary report: World Conference on Religions and Equal Citizenship rights