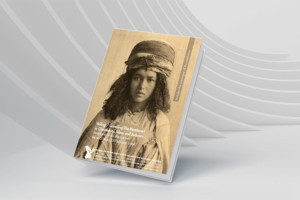 Against the background of heightened fear of the Other, with societies turning inwards and moving away from tolerance, the headscarf has become outrageously politicised. Politicians are waging a relentless war against this religious symbol, either by advocating its prohibition and thus trampling on article 18 of the Universal Declaration on Human Rights or by legislating to impose it on women, thus violating women's freedom to choose what to wear. The Geneva Centre partnered with the Permanent Mission of Algeria to organize a panel discussion and an exhibition on 23 February 2018, at the UN Offices in Geneva, entitled "Veiling/ Unveiling: The Headscarf in Christianity, Islam and Judaism."
In the first part of the publication, the reader is provided with the summary of the debate, whilst a full chapter is dedicated to the lessons learned, offering an analysis of the topic from the standpoint of each religion discussed. The second part of the publication provides a graphic illustration of the catalogue of the eponymous exhibition.
Access the pdf version or contact us if you'd like to receive a hard copy of this publication.
Year of publication: February 2019