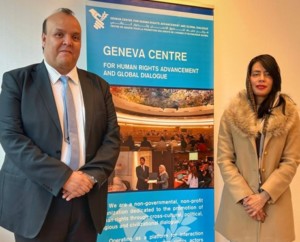 Geneva – 15 November 2022
The Geneva Centre for Human Rights Advancement and Global Dialogue received Mr Naji Moulay Lahsen, the Chairperson of the Network of the Independent Commission For Human Rights in North Africa at its premises on Tuesday 11 November 2022.
Mr Lahsen heard with great interest about the Centre's work based on its four pillars of research and publication, training and national capacity building in human rights, international advocacy through reporting on major conferences and developments, and offering a platform for discussion and debate on vital human rights issues through organizing conferences and panel events. The Centre's work on promoting an inter-cultural and inter-religious dialogue to foster mutual understanding, tolerance and the celebration of diversity, as well as the Human Rights Council Reporting Initiative were of particular interest. Mr Lahsen introduced the IACHR as an international, non-profit, non-governmental organization, which is secular and apolitical and can join any organization, NGO, Grassroots Association or National and International Networks.
A number of avenues for collaboration between the Geneva Centre and the Network of the Independent Commission For Human Rights in North Africa were explored, including in the field of organizing tailor-made training sessions.
The Geneva Centre expressed its willingness to support such collaboration by sharing the Centre's considerable experience and its extensive network of experts in international organisations and academic institutions.