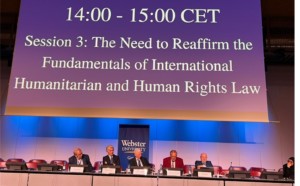 The Geneva Centre participates in the 27th International Humanitarian and Security Conference organized by Webster University Geneva
Geneva – 3 November 2022
The Geneva Centre for Human Rights Advancement and Global Dialogue (GCHRAGD) participated in the 27th International Humanitarian and Security Conference (IHSC) organized by Webster University Geneva. The two-day conference was held on November 1 and 2 at the International Conference Center Geneva (CICG) in Geneva.
The topic of this year's conference was "The Current Challenges to International Peace and Cooperation: The Search for Solutions" which featured keynote speeches on both days and six-panel discussions.
Dr. Umesh Palwankar, the Centre's Executive Director participated in the third panel of this important annual conference which was entitled "The Need to Reaffirm the Fundamentals of International Humanitarian and Human Rights Law". His presentation outlined the differences and complementarities between International Humanitarian Law and Human Rights Law.
The 27th IHSC was organized with the support of the Canton and the Republic of Geneva and under their auspices.