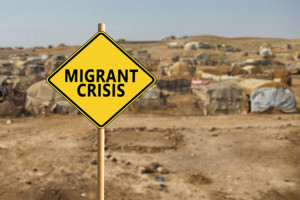 In order to mark the 2015 Human Rights Day and International Migrants Day, the Geneva Centre hosted a panel discussion on the migrant crisis currently affecting the Mediterranean region and the European continent more generally.
The discussion aimed to raise awareness and share experiences on the current migrant crisis, notably in the Mediterranean region and Europe, and to analyse the interrelation between security and international migrations. In this context, the debate focussed on international migration as a consequence of political instability and, particularly, as a possible side-effect of the Arab Spring. The debate also stimulated discussion on good practices and challenges ahead for the promotion and protection of migrants' rights in host countries, as well as on practical measures to support human rights promotion and democracy-building in potential migrant-sending countries.
Panellists: 
Mr. Hassan Abdel Moneim, Senior Regional Adviser for North Africa, The Middle East and the Gulf States at IOM;
Mr. José Riera, Senior Advisor at UNHCR;
Dr. Nasr Mohamed Arif, Advisor to the Minister of Culture, Youth and Community Development in the United Arab Emirates;
Dr. Ibrahima Guissé, Senior Researcher at University of Applied Sciences and Arts Western Switzerland HETS / HES-SO Genève;
Mr. Nicolae Schiau, Journalist and Producer at Radio Télévision Suisse;
Mr. Christian Degiorgi, Chief Administrative Officer at UNESU.
Full Report: An Aftermath of the Arab Spring.
Event Partner: Union des Nations pour l'Enseignement, la Science Universelle et les Droits de l'Homme.