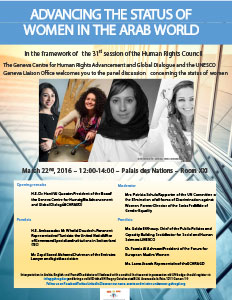 Women's rights and gender equality have been at the heart of the international agenda over the past few years. This intensification of the movement for women's rights has been driven, in part, by the anniversaries of some of the core international instruments on gender. As such, 2015 marked the 20th anniversary of the Fourth World Conference on Women and of the adoption of the Beijing Declaration and Platform for Action, the road map for gender equality for the past two decades. The year 2015 also marked the 15th Anniversary and the Global Review of UN Security Council Resolution 1325 main UN resolution dealing with women's participation in peace and security and their protection from violence during conflict. These processes coincided with the elaboration of the new global development agenda and Sustainable Developments Goals, placing gender equality at the core of concerns for the next 15 years, through SDG 5.
Ms. Patricia Schulz, Rapporter of the UN Committee on the Elimination of all Forms of Discrimination against Women, served as the panel moderator.
Panellists:
H.E. Mr. Whalid Doudech, Perrmanent Representative of Tunisia to the United Nations Office of Geneva and Specialized Institutions in Switzerland;
Mr. Zayd Saeed Alshamsi, Chairman of the Emirates Lawyer and Legist Association;
Ms. Golda El-Khoury, Chief of the Public Policies and Capacity Building Section, Sector for Social and Human Sciences, UNESCO;
Dr. Fawzia Al Ashmawi, President of the Forum for European Muslim Women;
Ms. Lama Jbarah, Representative of the GCHRAGD.
Event Report: Advancing the Status of Women – Report of the Event
Event Partner: The United Nations Educational, Scientific and Cultural Organization (UNESCO)'s Liaison Office in Geneva