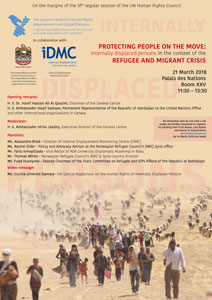 A panel debate was organized to discuss the situation of the world's internally displaced people (IDPs) and the causes and consequences of this global phenomenon.
The debate entitled "Protecting people on the move: Internally displaced persons (IDPs) in the context of the refugee and migrant crisis" was held at the United Nations Office in Geneva, on the margins of the 37th regular session of the UN Human Rights Council.
Panellists:
Ms. Alexandra Bilak – Director of the Internal Displacement Monitoring Centre (IDMC)
Ms. Rachel Sider – Policy and Advocacy Advisor at the Norwegian Refugee Council's Syria office (NRC)
Mr. Fuad Huseynov – Vice-Rector of ADA University (Baku, Azerbaijan)
Ms. Cecilia Jimenez-Damary – UN Special Rapporteur on the Human Rights of IDPs (by video message).
The panel debate aimed to broaden the discussion regarding the challenges related to protection needs of and enhancing mechanisms for return and reintegration of IDPs. Forced displacement of IDPs has become an issue of growing concern, particularly in the Middle East. There are more IDPs than refugees worldwide. Despite this forced displacement of IDPs owing to conflict and violence has become a forgotten issue in the context of the migrant and refugee crisis. The panel debate, therefore, aimed to offer a 'voice to the voiceless' and to raise awareness of the situation of IDPs in the Middle East. The discussion was a critical opportunity to take stock of what has been achieved since the UN Guiding Principles on Internal Displacement were adopted twenty years ago, and what needs to now happen to ensure the next twenty years bring about real change and more positive outcomes for the world's IDPs.
Video Report: IDPs in the Context of the Migrant and Refugee Crisis
Event Partner: Internal Displacement Monitoring Centre (IDMC)