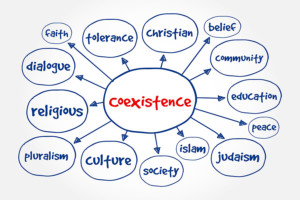 On March 5th, the Geneva Centre, with the support of Union des Nations pour l'Enseignement, la Science Universelle et les Droits de l'Homme (UNESU), hosted a panel discussion at the side-lines of the 28th regular session of the Human Rights Council. The panel discussion, which was moderated by Mr. Ricardo Espinosa, Head of Development and Global Initiatives at the Geneva Centre, successfully evoked good practices and challenges ahead for combating intolerance and discrimination based on religion or belief.
In his opening remarks, Mr. Espinosa addressed the audience by acknowledging the need to enhance the promotion of human rights, mainly through intercultural and inter-religious dialogue. In this context, he highlighted the necessity to uphold the provisions set forth in Resolution 16/18, as well as to recommend practical measures in order to ensure its full and effective implementation.
The panel discussion led to a constructive debate with the attendees. Participants raised issues about the radicalization into hatred and violence of what has been representing for centuries a message of peace by every religion. The answer was that the root causes of this phenomenon lay in the search for power, which instrumentalizes religion for political purposes.
The Geneva Centre wishes to thank all participants and panelists for the utmost success of the event, and hopes for continued interfaith collaboration as a stepping-stone in its ultimate goal: the promotion and protection human rights, mainly through intercultural and inter-religious dialogue.