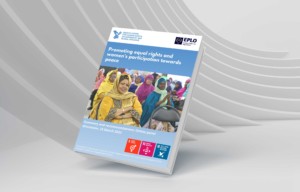 The present publication is the result of an online panel debate organized by the Geneva Centre for Human Rights Advancement and Global Dialogue in collaboration with European Public Law Organization (EPLO), on 23 March 2022, entitled "Promoting Equal Rights and Women's Participation Towards Peace".
The publication contains a summary of the panel presentations, the discussions during the ensuing Question and Answer session, an analysis of the lessons learned from the panel debate and recommendations, followed by the full statements of the six panellists.
The presentations addressed  innovative ways to promote gender equality and reinforce participation of women in society, capacity-building at the national and local levels, the vital role of women in countering extremist discourse and fostering intercultural and interfaith dialogue, particularly at the community level, implementation of the UN Security Council Resolution 1325 Women, Peace and Security agenda, and the role of digital technologies to enhance women's participation in conflict prevention and peace building.
In today's post-Covid reality, women bear the brunt of inequalities in various domains and acutely suffer the impact of conflicts on their lives and societies. There is an urgent need to effectively protect women's rights and actively promote their invaluable role in conflict prevention, dialogue and peacebuilding.
Access the pdf version or contact us if you'd like to receive a hard copy of this publication.
Watch the recording of the panel here.
Year of publication: 2022
For any queries, contact: RDelas-nasi@gchragd.org
Cover photo credits: AMISOM Photo / Ilyas Ahmed, Flickr