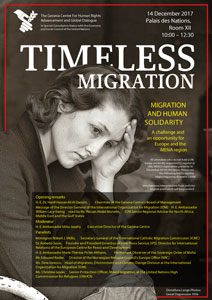 The panel debate was organized on the challenges and opportunities related to the protracted migrant and refugee crisis affecting Europe and the MENA region.
The debate entitled "Migration and human solidarity, a challenge and an opportunity for Europe and the MENA region" was held at the United Nations Office in Geneva.
Panellists:
Dr. Roberto Savio – Founder and President Emeritus of Inter Press Service (IPS) and Director for International Relations of the European Centre for Peace and Development);
Monsignor Robert J. Vitillo – Secretary-General of the International Catholic Migration Commission;
Mr. Edouard Rodier – Director of the Norwegian Refugee Council's Europe Office;
Ms. Dina Ionesco – Head of IOM's Migration, Environment and Climate Change Division;
Ms. Christine Goyer – UNHCR Senior Protection Officer, Mixed Migration.
Event Summary:
The panel debate addressed the adverse impact of cross-border movement resulting from war-related insecurity and from economic push factors such as the detrimental impact of climate change. Violence and insecurity as well as climate change migration have adversely affected millions of people in the MENA region and have become issues of high importance for the countries in the region and in Europe. The conference aimed at promoting a discussion of this major issue in its Europe-Middle Eastern interactive dimensions rather than through focussing on the two regions separately.
The event was structured in two main sections with the first part covering forced cross-border movement of people resulting from war-related insecurity affecting countries in the Middle East. The second part explored the triggering factors contributing to the forced cross-border movement of "climate migrants" from the Sahel region to Europe via North Africa, and the solutions required to redress this situation. These two clusters offered an inclusive and holistic assessment of, and response to, the protracted climate migrant and refugee crises affecting Europe and the MENA region.
Altogether, the outcomes of the panel debate contributed to enriching the debate on the UN Global Compact for Migration and Refugees that will be adopted in 2018.
Video Report: Timeless Migration