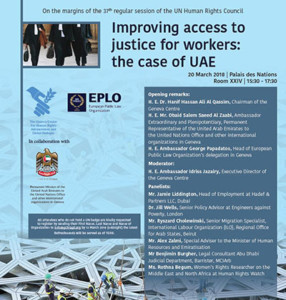 The Geneva Centre for Human Rights Advancement and Global Dialogue and the European Public Law Organization (EPLO) – in collaboration with the Permanent Mission of the United Arab Emirates to the United Nations Office and other international organizations in Geneva – will organize a panel debate on 20 March on the theme of "Improving access to justice for workers: the case of UAE". The debate will be held at the United Nations Office in Geneva in room XXIV, from 15:30 to 17:30, on the margins of the 37th regular session of the UN Human Rights Council.
The subject of the protection and the advancement of access to justice for foreign labour in the GCC (Gulf Cooperation Council) region has been addressed by the GCC states and by leading human rights and international organizations. In this context, the panel debate will aim to take stock of the progress achieved in the UAE to enhance access to justice and to identify areas of possible improvement. It will bring together representatives from human rights organizations, UN entities, consultants to the UAE government, NGOs and civil society organizations to explore joint ideas and initiatives to provide equal access to justice for all in the UAE.
The panel debate will be opened by the Chairman of the Geneva Centre's Board of Management H. E. Dr. Hanif Hassan Ali Al Qassim, the Permanent Representative of the UAE H. E. Ambassador Obaid Salem Saeed Al Zaabi and the Head of European Public Law Organization's delegation in Geneva Ambassador George Papadatos.
Speakers participating in the panel will be:
(1) Mr. Jamie Liddington, Head of Employment at Hadef & Partners LLC, Dubai;
(2) Dr. Jill Wells, Senior Policy Advisor at Engineers against Poverty, London;
(3) Mr. Ryszard Cholewinski, Senior Migration Specialist, International Labour Organization (ILO), Regional Office for Arab States, Beirut.
The debate will be moderated by the Executive Director of the Geneva Centre Ambassador Idriss Jazairy.