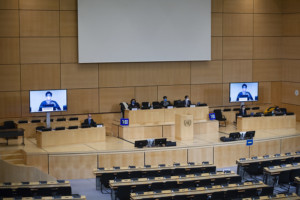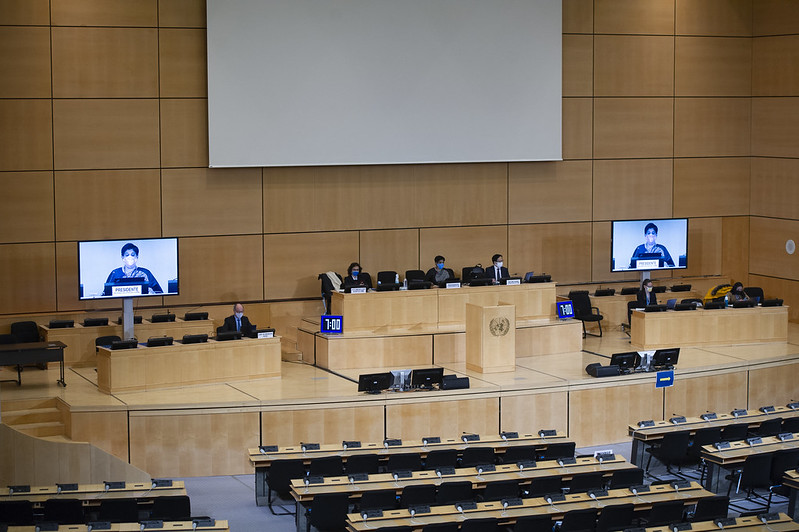 The Geneva Centre monitored the UN Human Rights Council meetings during its 49th regular session (HRC49).
The forty-ninth session of the UN Human Rights Council (HRC49) was held at the United Nations Office in Geneva from 28 February to 1 April 2022. The 5-week session consisted of 7 panel discussions and one thematic meeting, 11 Interactive Dialogues with the Special Procedures mandate holders and investigative mechanisms, 11 Interactive Dialogues with the High Commissioner, 3 Enhanced Interactive Dialogues, and a High-Level Segment (HLS). The Council adopted outcomes of the UPR of thirteen states and appointed 11 mandate holders of Special Procedures and Expert Mechanisms.
The 49th session opened with the Oral updates of the President of the General Assembly, the Secretary General, the High Commissioner for Human Rights, and the President of the Swiss confederation as the host country, which was followed by the HLS. Over the course of the 49th session, a number of thematic and country specific human rights issues were addressed.
Thematic areas/discussions included topics related to economic, social and cultural rights, civil and political rights and the rights of specific groups, including the Annual Discussion on the Rights of the Child, freedom of religion or belief, protection of human rights defenders, torture, rights of people belonging to minorities, protection and promotion of human rights while countering terrorism, human rights and environment, and the right to food and adequate housing, among others.
Country specific topics included human rights situations in Afghanistan, Belarus, Cambodia, Central African Republic, Democratic Republic of the Congo, DPRK, Eritrea, Islamic Republic of Iran, Libya, Mali, Myanmar, Nicaragua, the Occupied Palestinian Territory, Syrian Arab Republic, South Sudan, Sri Lanka, Tigray region of Ethiopia, Ukraine, and Venezuela.
To join our HRC Mailing List and receive our detailed HRC reports during the upcoming session please click here. The reports will also be uploaded on this page.
For any queries, please contact Ms. Reetta Delás Näsi: rdelas-nasi@gchragd.org
| ORGANIZATIONAL MEETING                                       | DATE | VIEW |
| --- | --- | --- |
| Organizational Meeting of the 49th session of the Human Rights Council | 14 February 2022 | |
| URGENT DEBATE                                     | DATE | VIEW |
| --- | --- | --- |
| Urgent debate on the "Situation of Human Rights in Ukraine Stemming from the Russian Aggression" | 3-4 March 2022 | |
| WEEKLY OVERVIEWS                                                    | DATE | VIEW |
| --- | --- | --- |
| Week 1 Overview | 28 February – 6 March 2022 | |
| Week 1 Overview – UPDATED | 28 February – 6 March 2022 | |
| Week 1 Outcomes | 28 February – 6 March 2022 | |
| Week 2 Overview | 7-13 March 2022 | |
| Week 2 Outcomes | 7 – 11 March 2022 | |
| Week 3 Overview | 14 – 18 March 2022 | |
| Week 4 Overview | 21 – 25 March 2022 | |
| Week 5 Overview | 28 March – 3 April 2022 | |
| INTERACTIVE DIALOGUES                                            | DATE | VIEW |
| --- | --- | --- |
| Interactive dialogue on the report of the High Commissioner on the situation of human rights in Nicaragua | 7 March 2022 | |
| Interactive dialogue on the report of the High Commissioner on the situation of human rights in Afghanistan | 7 March 2022 | |
| Interactive dialogue with the Special Rapporteur in the field of cultural rights | 8 March 2022 | |
| Interactive dialogue with the Independent Expert on the effects of foreign debt and other related international financial obligations of States on the full enjoyment of all human rights | 10 March 2022 | |
| Interactive Dialogue with the Special Rapporteur on freedom of religion or belief | 10 March 2022 | |
| Interactive dialogue with the Special Rapporteur on the issue of human rights obligations relating to the enjoyment of a safe, clean, healthy and sustainable environment | 10-11 March 2022 | |
| REPORT PRESENTATIONS AND ORAL UPDATES        | DATE | VIEW |
| --- | --- | --- |
| Opening of the Session | 28 February 2022 | |
| Oral Update by the UN High Commissioner for Human Rights | 8 March 2022 | |
| ITEM 3: Presentation of Secretary-General's and the High Commissioner's thematic reports; Presentation of the report of the open-ended intergovernmental working group on transnational corporations and other business enterprises; Presentation of the Report of the fourth inter-sessional meeting for dialogue and cooperation on human rights and the 2030 Agenda for Sustainable Development | 16 March 2022 | |
| PANEL DISCUSSIONS                                                   | DATE | VIEW |
| --- | --- | --- |
| Meeting on enhancing technical cooperation and capacity-building in promoting and protecting the human rights of persons in vulnerable and marginalized situations in recovery efforts during and after the COVID-19 pandemic | 7 March 2022 | |
| GENERAL DEBATES                                                      | DATE | VIEW |
| --- | --- | --- |
| Item 2: General debate on the oral update by the High Commissioner, reports on OHCHR activities in Colombia, Guatemala and Honduras, OHCHR report on Cyprus and oral update on Eritrea | 8 March 2022 | |
| Item 3: Promotion and protection of all human rights, civil, political, economic, social and cultural rights, including the right to development | 16 March 2022 | |
| Item 4: Human rights situations that require the Council's attention | 21-22 March 2022 | |
| DETAILED SUMMARIES                                                | DATE | VIEW |
| --- | --- | --- |
| High Level Segment – MENA Region Dignitaries | 28 February – 3 March 2022 | |
| Adoption of Draft Resolutions | 31 March – 1 April 2022 | |