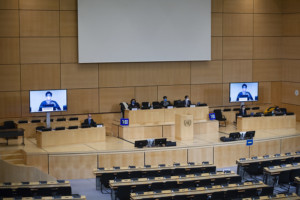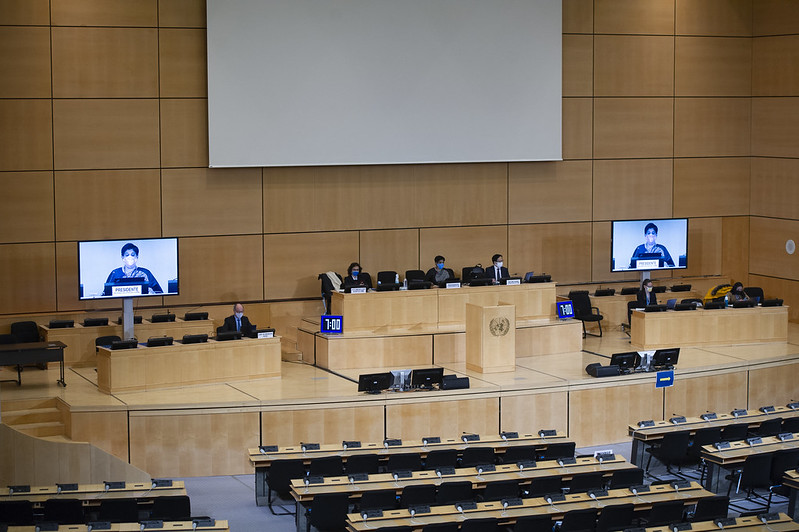 The Geneva Centre closely monitored the 47th session of the Human Rights Council (HRC). The HRC47th session was held from 21 June to 15 July 2021. For the first time, the June session continued for four weeks due to the fact that new mandates were created that required additional meeting hours.
The Council's meetings were presided by the President H.E. Ms Nazhat Shameem Khan, and four Vice-Presidents from all regional groups, including H.E. Ms Keva Lorraine BAIN (Bahamas), H.E. Ms. Ebyan Mahamed Salah (Somalia), H.E. Ms Monique T.G. Van Daalen (Netherlands), and H.E. Mr Yuri Borissov STERK (Bulgaria).
The session began with the presentation of the Annual Report by the UN High Commissioner on Human Rights which the Geneva Centre closely followed. No general debates were held during the 47th session, however, the Council held 25 interactive dialogues with special procedure mandate holders and mechanisms, 6 interactive dialogues with the High Commissioner and 1 interactive dialogue with the Special Advisor to the Secretary-General. The Council also adopted 25 Resolutions, 2 Decisions, 13 outcomes of the Universal Periodic Review, and elected 7 mandate holders of Special Procedures.
7 panel discussions were held during the 47th session, including on topics such as multisectoral prevention of and response to female genital mutilation (23 June 2021); the tenth anniversary of the Guiding Principles on Business and Human Rights (29 June 2021); human rights of older persons in the context of climate change (30 June 2021); human rights of women, with Panel 1: Violence against women and girls with disabilities (5 July 2021) and Panel 2: Gender-equal socioeconomic recovery from the COVID-19 pandemic (6 July 2021); promoting human rights through sport and the Olympic ideal (7 July 2021) under the theme of "The potential of leveraging sport and the Olympic ideal for promoting human rights for young people", and technical cooperation and capacity-building, under the theme of "Technical cooperation to advance the right to education and ensure inclusive and equitable quality education and lifelong learning for all".
In view of the ongoing COVID-19 crisis, the Extraordinary Modalities continued to be applied, with predominantly remote participation.
| ORGANIZATIONAL MEETING | Date | View |
| --- | --- | --- |
| Organizational Meeting of the 47th session of the Human Rights Council |  7 June 2021 | |
| WEEKLY OVERVIEWS | Date | View |
| --- | --- | --- |
| Week 1 – Overview of upcoming meetings and reports considerations |  21 June 2021 | |
| Looking Back at Week 1 – Main highlights |  25 June 2021 | |
| Week 2 – Overview of upcoming meetings and reports considerations |  28 June 2021 | |
| Looking Back at Week 2 – Main highlights | 2 July 2021 | |
| Week 3 – Overview of upcoming meetings and reports considerations | 5 July 2021 | |
| Looking Back at Week 3 – Main highlights | 9 July 2021 | |
| Week 4 – Overview of upcoming meetings and draft proposals | 12 July 2021 | |
| INTERACTIVE DIALOGUES | DATE | VIEW |
| --- | --- | --- |
| Opening Meeting |  21 June 2021 | |
| Interactive Dialogue on the High Commissioner report on the role of States during pandemics | 21 June 2021 | |
| Interactive Dialogue on the High Commissioner's annual report | 21-22 June 2021 | |
| Interactive Dialogue with the Special Rapporteur on the right to physical and mental health | 23-24 June 2021 | |
| Interactive Dialogue with the Special Rapporteur on the human rights of migrants | 23-24 June 2021 | |
| Interactive Dialogue with the Special Rapporteur on the right to education | 24-25 June 2021 | |
| Interactive Dialogue with the Special Rapporteur on violence against women, its causes and consequences | 28-29 June 2021 | |
| Interactive dialogue with the Special Rapporteur on the rights to freedom of peaceful assembly and of association | 1 July 2021 | |
| Interactive dialogue with the Special Rapporteur on Extreme Poverty and Human Rights | 30 June 2021 | |
| Interactive dialogue with the Special Rapporteur on Freedom of Expression | 2 July 2021 | |
| Interactive dialogue on the High-Commissioner Report on Human Rights in Venezuela | 5 – 6 July 2021 | |
| Interactive Dialogue with the Commission of Inquiry on Syria | 6 July 2021 | |
| Interactive dialogue on the High Commissioner Oral Update on the Situation of Human Rights in Myanmar | 6-7 July 2021 | |
| Interactive dialogue with the Special Rapporteur on Human Rights in Myanmar | 7 July 2021 | |
| Interactive dialogue on the oral update of the High Commissioner on Ukraine and interim report of Secretary-General on the situation of human rights in Crimea | 09 July 2021 | |
| Interactive dialogue with the Special Rapporteur on the situation of human rights in Palestine | 9 July 2021 | |
| REPORT PRESENTATIONS AND ORAL UPDATES | DATE | VIEW |
| --- | --- | --- |
| Situation of human rights in Iran (Report presentation) |  22 June 2021 | |
| Situation of human rights in Nicaragua (Oral update) | 22 June 2021 | |
| PANEL DISCUSSIONS | DATE | VIEW |
| --- | --- | --- |
| High-Level Panel on Female Genital Mutilation |  23 June 2021 | |
| High-Level Panel on the Tenth Anniversary of the Guiding Principles on Business and Human Rights | 29 June 2021 | |
| Panel Discussion on the Human Rights of Older Persons in the Context of Climate Change | 30 June 2021 | |
| PANEL DISCUSSIONS | DATE | VIEW |
| --- | --- | --- |
| Universal Periodic Review Outcomes of: Federated States of Micronesia, Lebanon, Mauritania, Saint Kitts and Nevis, Australia, Saint Lucia, Nepal, Oman, Austria, Rwanda, Georgia, Sao Tome and Principe, Nauru. |  8 – 9 July 2021 | |
| DETAILED SUMMARIES | DATE | VIEW |
| --- | --- | --- |
| Interactive Dialogue on the Annual Report of the High Commissioner |  21-22 June 2021 | |
| Adoption of Draft Resolutions | 12-14 July 2021 | |
| Action on Written Amendments to Draft Resolutions |  12-14 July 2021 | |