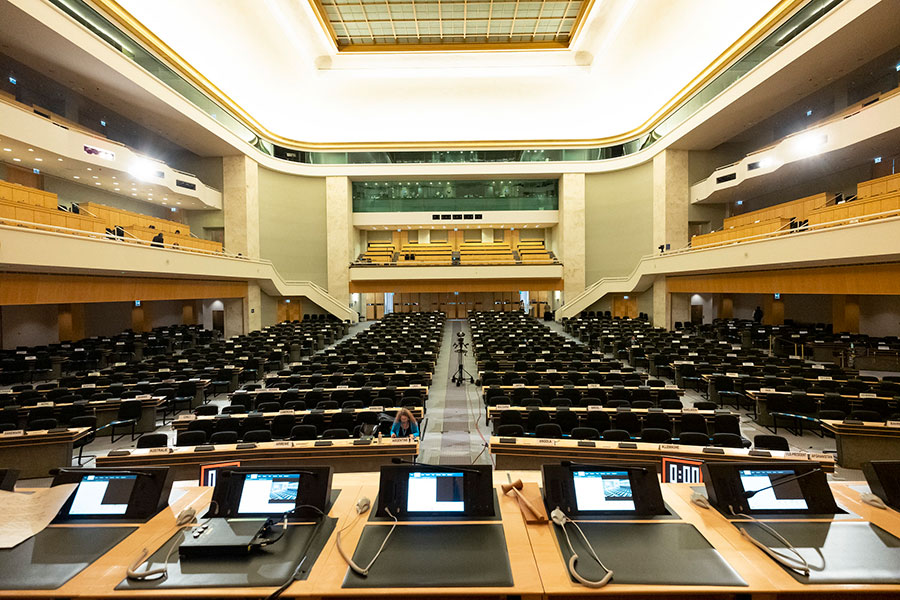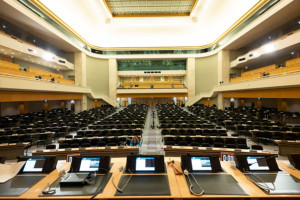 During the 45th session of the  Human Rights Council (14 September – 7 October 2020), the Geneva Centre continued its regular practice of publishing in real time analytical reports from the HRC meetings.
Over the course of the 45th session, we followed 3 panel debates, 10 interactive dialogues, 10 Universal Periodic Review adoptions, 7 General Debates, and an Urgent debate on the human rights situation in Belarus.
Along with individual session reports we provided a number of summary tables, including the one in which we summarized 82 reports submitted by the UN experts, and seven comprehensive summaries of General Debates. A final extensive report on 35 resolutions adopted during the 45th session of the Council, and the Voting Patterns table by all countries were also prepared by our Team.
More than 150 diplomats from 75 Permanent Missions in Geneva have received our HRC45 reports. We are especially proud to be able to assist smaller delegations in Geneva. Our reports have also been shared with more than 200 subscribers from United Nations agencies and International Organizations, NGOs, Media Sources and Academic Institutions.
To keep up to date and be the first to receive our reports, join our Mailing List!
| REPORTS ON PANEL DEBATES | Date | View |
| --- | --- | --- |
| Biennial panel discussion on the right to development | 17 September 2020 | |
| Annual half-day panel discussion on the rights of indigenous peoples | 23 September 2020 | |
| Annual discussion on the integration of a gender perspective throughout the work of the Human Rights Council and that of its mechanisms | 28 September 2020 | |
| REPORTS ON INTERACTIVE DIALOGUES WITH SPECIAL MANDATE HOLDERS | Date | View |
| --- | --- | --- |
| Enhanced ID on the situation of Rohingya Muslims and other minorities in Myanmar | 14 September 2020 | |
| ID with Special Rapporteur on contemporary forms of slavery | 16 September 2020 | |
| ID with Special Rapporteur on truth, justice, reparation, and guarantee of nonrecurrence | 17 September 2020 | |
| ID with the Working Group on Enforced Disappearances | 21 September 2020 | |
| ID with Special Rapporteur on the situation of human rights in Myanmar | 22 September 2020 | |
| ID with the Commission of Inquiry on Syria | 22-23 September 2020 | |
| ID with the Human Rights Advisory Committee | 25 September 2020 | |
| ID with the Group of Eminent Experts on Yemen | 29 September 2020 | |
| ID on the High-Commissioner oral update on Ukraine | 1 October 2020 | |
| ID with the Fact-Finding Mission on Libya | 5 October 2020 | |
| TABLES ON GENERAL DEBATES | Date | View |
| --- | --- | --- |
| Item 2: Oral Update by the High Commissioner for Human Rights | 15 September 2020 | |
| Item 3: Promotion and Protection of All Human Rights, Civil, Political, Economic, Social and Cultural Rights, including the Right to Development | 22, 24 September 2020 | |
| Item 4: Human rights situations that require the Council's attention | 25, 28 September 2020 | |
| Item 5: Human rights bodies and mechanisms | 29 September 2020 | |
| Item 6: Universal Periodic Review | 30 September 2020 | |
| Item 8: Follow-up to and implementation of the Vienna Declaration and Programme of Action | 1 October 2020 | |
| Item 9: Racism, Racial Discrimination, Xenophobia and Related Forms of Intolerance, follow-up to and implementation of the Durban Declaration and Programme of Action | 1 October 2020 | |
| OTHER REPORTS | Date | View |
| --- | --- | --- |
| Summary table of OHCHR reports submitted prior and during the 45th session | September 2020 | |
| Summary report of the urgent debate on the situation of human rights in Belarus | 18 September 2020 | |
| Synthesized report of UPR adoptions | 28-29 September 2020 | |
| Voting Patterns table | 30 September 2020 | |
| Final report on the resolutions adopted during the 45th session of the Council | 6-7 October 2020 | |