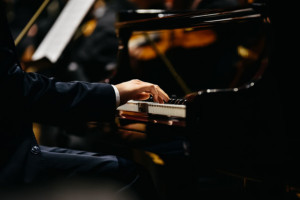 To mark the 70th anniversary of the United Nations and the International Day of Peace, the Geneva Centre for Human Rights Advancement and Global Dialogue hosted a peace concert entitled "Pianists for Peace", in collaboration with the Permanent Mission of the Bolivarian Republic of Venezuela to the United Nations Office and other international organizations as well as with the UNESCO Liaison Office in Geneva.
This unique event, which took place on Monday 21 September within the United Nation's Assembly Hall, served as a space for peace, solidarity and dialogue. In order to convey this message, world-renowned pianists (Alexander Ghindin, Stanislas Khristenko, Yaron Kohlberg, Bishara Haroni and Francois-Xavier Poizat), from different cultures, traditions and religions, performed and interpreted together famous classical music works, providing the audience with an exquisite example of intercultural and interreligious dialogue.
At the opening ceremony, welcoming remarks were addressed by Mr. Michael Möller – Director-General of the United Nations Office in Geneva, H. E. Mr. Jorge Valero – Ambassador, Permanent Representative of the Bolivarian Republic of Venezuela in Geneva, and H. E. Dr. Hanif Al Qassim – Chairman of the Geneva Centre. "Music, in its universality, has the power to convey profound messages and to bridge gaps between different cultures, religions and nationalities. By granting access to the most authentic expression of one's identity, music represents the voice of human spirit and constitutes a powerful instrument to promote peace and dialogue between peoples." – underscored Dr. Al Qassim, in his opening remarks.
Coming from countries where the construction of peace and the elimination of war have been playing a central role, our distinguished pianists were able to share a common manifestation in favour of peace, human rights and development. The symbolic collective hug among the pianists, which followed the grand final of the concert, represented the emblem of a shared will to put the theoretical ideals of peace into concrete action.
The audience reaching up to 1.500 attendees, the concert turned out to be a great success, and represented the sign of a strong and large commitment to the promotion and advancement of peace worldwide. "This event constituted the symbol of a sustainable partnership between the United Nations and civil society in favour of peace." – stated Mr. Möller.